One might say woodworking is in the blood for Timothy A. Woody of
"deeply rooted treeworks."
  Born a third generation of sawmill/timber operators, let alone the "Woody" name, he has been immersed in the wood industry since birth.  Woodworking as a hobby is an "inherited" trait as his father and grandfather before him enjoyed crafting various items from wood.
Through the years Tim has honed his craft from simple beginnings in his garage where many items were made of necessity, to his current level of craftsmanship.  Tim continues to turn out beautiful wood creations.  He utilizes knots left over by loggers, reclaimed barn wood, and any other wood he can get his hands on, mostly the Applachian hardwoods of his native West Virginia.  He has even been known to "rescue" pieces of firewood and create unique pieces of art.  Many have asked about his ability to look at a knot or a piece of firewood and see a beautiful bowl-his response, "I let the wood guide me."

Although Tim's first love is making hand carved bowls with and without deer antlers, and coffee tables using slabs of wood, he also crafts rustic bedroom furniture, farmhouse and pedestal tables and various other pieces of furniture.  If one is looking to find Tim, he may be out tending the cattle on his small farm, but more often he can be found in his workshop turning out one of a kind treasures.

Tim offers bowls for sale in the in the gift shop of the prestigious Stonewall Resort in Lewis County, West Virginia.

Samples of work are viewable in the Gallery.

Contact the artist directly to commission your own one of a kind treasure or for more information.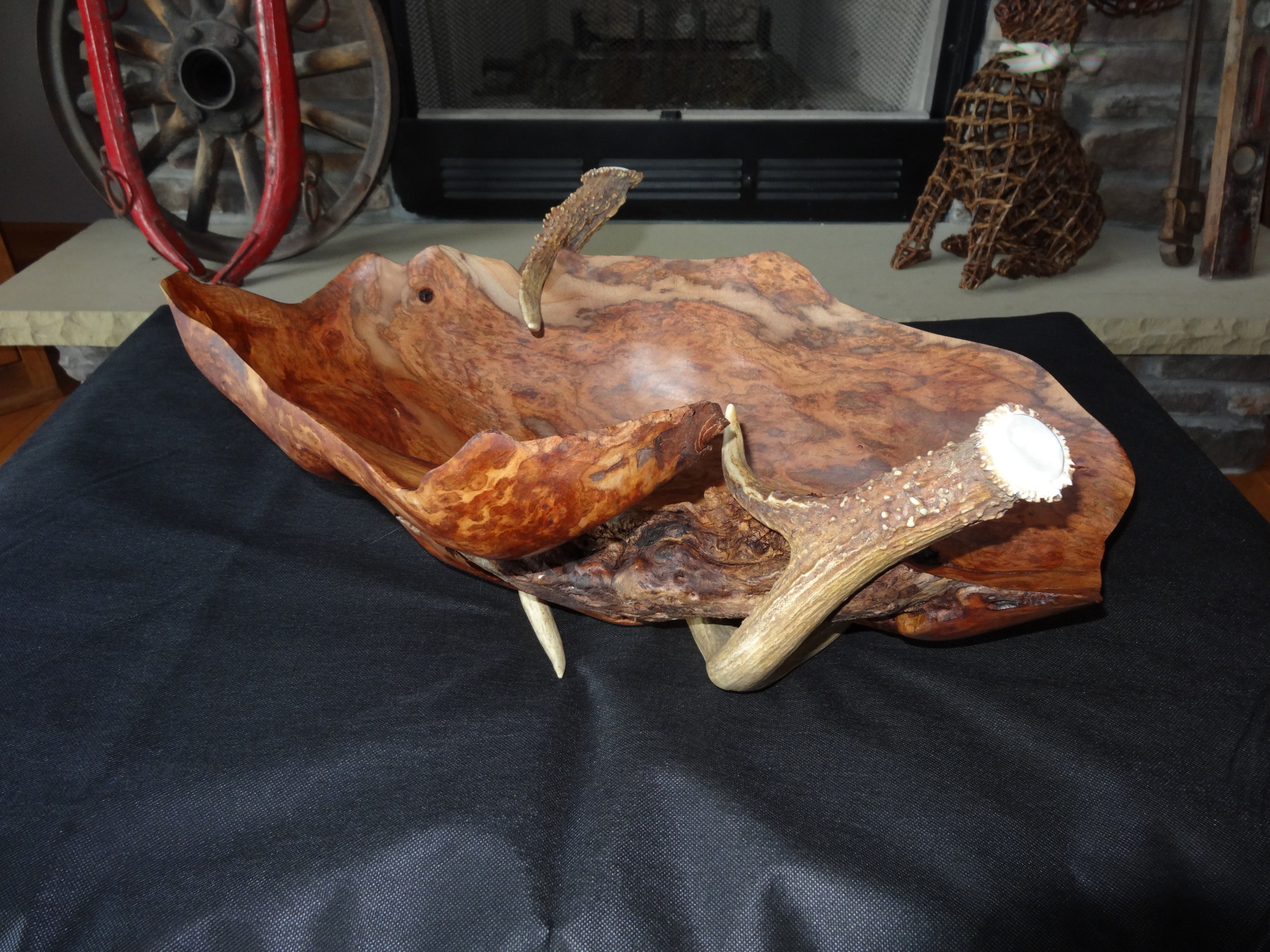 I create unique one of a kind antler bowls using authentic antlers.  Each piece is uniquely handcarved using knots and other pieces of wood, with a hand rubbed finish.  I also offer handcarved bowls without antlers.

Do you have an antler  that is special to you? Send it to me and I will create a bowl made to fit on your antler. Contact me to get started on your own antler bowl made specially for you.

Each item is handstamped and signed by the artist.

Bowl Sizing (all sizes approximate) Small 6"-8", Medium 10"-14"

Large 16"-24"

This piece is a walnut wood slab bench with curly maple. I also offer many other items for sale on a commission basis, including rustic bedroom furniture, farmhouse tables, slab wood coffee tables, and rustic and traditional mantles.  Each item is handcrafted and can be made to the buyers specifications.  Contact me for more information.